With recent advancements in technology, using a 3D configurator has become increasingly popular—but how powerful are these tools really?
In this article, we'll take a deep dive into the latest 3D configurator statistics for 2023 and beyond to get a better understanding of what they can do. By exploring the data concerning product configuration performance from A/B testing and user survey results, we will be able to gain insight into their potential impact on businesses today.
So if you want to stay ahead of the competition by leveraging cutting-edge products wrapped up with animation visuals that capture customer attention all while keeping your enterprise secure – then look no further!
Top 3D Configurator Statistics
With technological advancements revolutionizing industries across numerous sectors, 3D configurator tools have become increasingly sought after for their simplified product customizability options provided by various tech companies. 
Let's focus on exploring key metrics from 2023 and beyond related to 3D configurators that will help aspiring technophiles stay informed!
77% of customers use augmented reality when looking at product options

94% of conversion lift merchants see after adding a 3D configurator

Video-only options raise conversion rates by 60%

250% of 3D product images increase conversions by 250%

40% of higher conversions are earned with interactive 3D

82% of visitors to product pages choose to activate the 3D view
95% of consumers prefer interactive 3D to video playback

$5.63B is the projected market size for 3D rendering in 2023

#1 ranking of 360°

spin in 3D among all eCommerce visual presentations

According to the Harris Poll, 60% of online shoppers "are more likely to buy a product if it is shown in 3D or AR" 

Brands are finding conversion rates as high as 40% when they replace product photography with a 3D product configurator 

In fact, a Deloitte survey reveals that one-fifth of surveyed consumers who expressed interest in the 3D model personalization were willing to pay 20% more for customized products.
In contrast to video playbacks, 95% of customers favor 3D, interactive product visualization

66% said they would be more interested in shopping on a website if it offered 3D/AR images
42% say they would pay more for a product if they could see it in 3D/AR

According to Google, the engagement rate of 3D ads is 3x higher compared to standard display or rich media ads and leads to higher lifts in brand equity data points like purchase intent (6.9x) and brand favorability (4.7x)

Product configurators can cut photography costs by 90% and product returns by as much as 80%

Replacing product photography with a 3D product configurator can boost conversion rates by up to 40%
The majority of survey participants expressed a preference for a unified omnichannel experience. This means that customers anticipate a consistent level of engagement regardless of where they shop—whether on the web, mobile, through augmented reality, or in a physical store. Achieving this level of interactivity hinges on the provision of high-quality 3D content featuring detailed zooming, smooth rotation, and an intuitive user interface.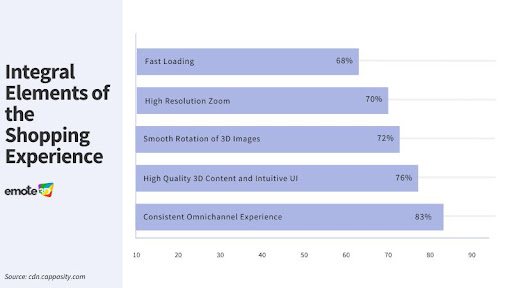 An astounding 82% of visitors activate a 3D view on a product page to understand an item better, regardless of its complexity

In fact, online shoppers spend 20 seconds interacting with 3D product views on average, and 34% interact with a 3D product view for upwards of 30 seconds

Sellers who add 3D content to their online stores experience a 94% conversion lift

In 2023, 66% of online shoppers believed that 3D images increased their confidence in their purchase decision
Did you know?
In fact,
63%
of consumers believe product imagery is more important than the product description when shopping online
82% of product page visitors active 3D view

34% of all users interact with a 3D view for more than 30 seconds

44% of shoppers are more likely to add an item to their cart after interacting with 3D
To conclude, 3D configurators will become increasingly popular and valuable to businesses over the next few years. As more retailers, manufacturers, and consumers recognize the true potential of these tools, we're likely to see even higher demand and usage in the near future. 
Companies around the world have great opportunities to not only achieve impressive conversions for profitable products but also capitalize on superior user experiences for their customers with eye-catching virtual showrooms or 3D product viewers that inspire a new level of trust. This should all influence businesses toward getting started with products immediately if they haven't done so yet by availing of 3D configurator solutions. 
Emote3D can make it easy! We empower companies worldwide to leverage 3D product customization within web stores and apps using sophisticated technology relevant to every stage of conversion funnel optimization. So don't wait any longer – connect via our contact page and submit your RFP today!