What is a Product Configurator?
A product configurator is a software tool that allows customers to personalize products according to their preferences, needs, and constraints. It transforms the buying process into an interactive experience by enabling users to customize various aspects of a product, such as color, size, features, and accessories.
They can be utilized for various products from caps to cars. Product configurators are beneficial to both customers and businesses. It helps companies increase their sales and allow customers to get what they want.
How to Create a Product Configurator?
The development of a product configurator involves several critical steps. 
Clearly define the goals and objectives of the configurator, including the product to be customized and the target audience

Collect comprehensive data on the available product options, including specifications and pricing

Choose the appropriate technology stack for development, considering factors like scalability and user interface

Create an intuitive and user-friendly interface that guides customers through the customization process

Build the configurator, integrating it with the company's website or app and connecting it to a pricing engine

Thoroughly test the configurator to ensure functionality, usability, and compatibility across different devices and browsers

Launch the configurator and continuously monitor user interactions and feedback for ongoing improvements
Product Configurator – How Does this Work?
Customers are presented with a user-friendly interface, that is integrated seamlessly into the website or application

Next customers can select a base product or model as their starting point

Now, customers are granted the ability to customize product attributes via interactive menus, sliders, or visual representations
Once customizations are selected, the configurator ensures that these choices align with technical specifications and are feasible

The real-time pricing adjustments are made based on the chosen customizations, offering users instant cost estimates
Finally, users can directly place their orders through the configurator, making it a seamless, end-to-end experience.
Applications of Product Configurators
Car Configurators

Car manufacturers like BMW, Ford, and Tesla offer online configurators that allow customers to select car models and customize them with options such as paint color, interior materials, and additional features like sunroofs or advanced audio systems. These configurators offer real-time price adjustments based on the chosen options.

Furniture Configurators

Companies like IKEA and Herman Miller offer configurators enabling customers to design their furniture pieces. Customers can select the type of wood, fabric, size, and configuration for sofas, tables, and chairs, among other products.

Apparel Configurators

Nike and Adidas offer shoe configurators that allow customers to personalize sneakers with options for colors, materials, and design elements. Some brands also provide customization options for sports jerseys and clothing.

Jewelry Configurators

Jewelry companies like Tiffany & Co. and Blue Nile have online configurators that enable customers to design engagement rings, necklaces, and bracelets by selecting gemstones, metals, and settings.

Custom Packaging Configurators

Packaging companies provide configurators that help businesses design custom packaging for their products. Users can choose box sizes, materials, printing options, and branding elements.

Bicycle Configurators

Bicycle manufacturers like Trek and Canyon offer configurators that allow customers to design their own bikes. Users can choose frame types, colors, components, and accessories.

Industrial Equipment Configurators

Companies in the industrial sector use configurators to allow customers to customize heavy machinery and equipment. These configurators take into account technical specifications and engineering constraints.

Shading and Window Treatment Configurators

Companies like Hunter Douglas offer configurators for window treatments. Customers can select window blinds or shades, customize materials, and see how the products will look in their home environments.

Kitchen Appliance Configurators

Manufacturers like KitchenAid and Bosch offer configurators for kitchen appliances such as ovens, refrigerators, and dishwashers. Customers can select features, finishes, and sizes to match their kitchen decor and needs. /td>
Benefits of a Product Configurator
Some of the advantages that businesses can experience while using a product configurator are,
A product configurator can enhance the customer experience by giving them more control and choice over their purchases. It can also increase their confidence and trust in your brand, as they can see exactly what they are getting and how it will look like in real life or in augmented reality

It eliminates the risk of miscommunication or misunderstanding between you and your customers, as it provides a clear and accurate representation of the product specifications and requirements. It can also reduce the number of returns or complaints, as the customers are more likely to be satisfied with their customized products

Streamline your sales and production processes, as it automates the configuration, quotation, and fulfillment of custom orders

Boost your sales and revenue by attracting more customers and increasing their engagement and retention
Cap Configurator from Emote 3D
Emote3D is committed to providing an immersive 3D experience that's entirely customizable. Thanks to our cutting-edge configurators, you can shape every element of your virtual adventure. Whether it's customizing characters, and outfits, or crafting captivating environments, the creative options are limitless.
Our user-friendly interface ensures that everyone, regardless of technical expertise, can easily navigate and enjoy the Emote3D platform. Whether you're a gamer, an e-commerce enthusiast, or an advertiser, our configurators are versatile and support in elevating your engagement with 3D content.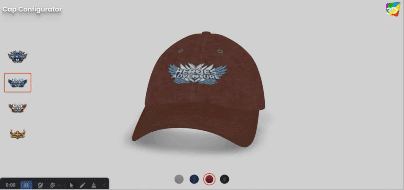 Take a look at our cap configurator which has been developed using Google Model Viewer. The cap configurator allows you to change the logo and color of the cap from the available options.
Emote3D is your ideal partner to bring the enchantment of 3D cap customization to your online platform. Feel free to contact us to unlock the boundless possibilities of 3D ring configurators and elevate your jewelry business to new heights. Your customers deserve nothing but three-dimensional elegance!